Summer Survival: Expert tips from our Plant Nursery
During the summer, when the heat rises and sun shines, plants can get thirsty and if we're not careful they can suffer from dehydration. At Country Market Garden Centre in Hampshire, we have a few tips to help you and your garden survive the summer from our professionals in our plant nursery.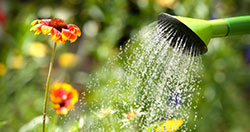 Watering
The experts in our plant nursery suggest watering early in the morning or later in the afternoon when it's cooler, so less water is lost to evaporation. In our plant nursery, we also use bark or compost to mulch the surface to stop water loss also help to keep the weeds down.
Feeding
While plants can survive without feed, summer is the time when many flower, and this makes them extra hungry. At our Garden Centre in Hampshire we have a wide selection of plant feed, just pop in and we will help you chose the right feed for your plant.
It's also helpful to add fertiliser to compost when repotting plants to help them take root in their new home.
At our plant nursery, we recommend hoeing regularly between plants when weeds are small, if they get too big, they will take valuable water and nutrient from the soil.
Going away
Move plants in to the shade where possible as avoiding direct sunlight will mean they are less likely to dry out.
Put house plants that really need water in the bath on top of an old towel soaked with water (shade the bathroom window if necessary).
Give the garden a good soak before you go away to ensure plants have plenty of water to drink, at least to start with. In our plant nursery, we use an irrigation system to keep plants well hydrated.
You can also invest in an irrigation system, why not pop into our Garden Centre in Hampshire, to look at the options that are available.
Summer Pests
Aphids are rife this time of year, that's Black Fly, White Fly and Green Fly to you and me. These pesky critters can do anything from stunting plant growth to killing your plants and the best way to get rid of them is simply to use a bug spray. Our Garden Centre in Hampshire has a range of pest control products to suit any insect problem.