Pumpkins - good food for you
At Country Market we love fresh, local and home grown produce and one of our favourites at this time of year is the pumpkin.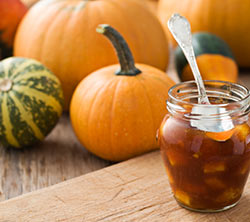 Interesting facts about the pumpkin..
Did you know that a pumpkin is actually a fruit not a vegetable? (Don't worry, in a questionnaire conducted by The Telegraph, only 7% of people knew that!).
Many people think that because of its rough exterior the pumpkin comes from the vegetable family. However, as it is a fleshy plant that has seeds in it and comes from a flower it is actually identified as a fruit.
The Health Benefits of eating fresh seasonal produce.
Eating fresh foods bring enormous health benefits and pumpkins are no different.  For example, pumpkins are incredibly rich in vital antioxidants and vitamins. They are also low calorie and contain vitamin A, Leutin, which helps good eye health, and Carotene, great for healthy skin, the immune system and eye health.
Home grown pumpkins - direct from our farm here in Hampshire
Here on the farm at Country Market, we grow literally 1,000's of pumpkins.  It's quite a long growing period but they are definitely worth the wait!
Enjoy the benefits of this fresh seasonal food
Pumpkins are so versatile with so many different recipes to enjoy.
Why not try the well-known Pumpkin Pie, Pumpkin Soup, Pumpkin Soup, Pumpkin Biscuits or even a Pumpkin Lasagne?
For some great recipe ideas visit http://www.bbc.co.uk/food/pumpkin
Halloween
Halloween is of course when pumpkins really do take centre stage.
Pumpkin carving has long been a tradition of Halloween originating from Irish children in the 1840s who first carved out the centres of turnips and potatoes and placed candles inside.
Nowadays, many people's windows are filled with spooky pumpkin carvings to celebrate October 31st.
Carving tips
Draw your design onto the pumpkin with a water based marker beforehand
Cut using a sharp knife and always make sure children are supervised when doing so
Carve away from yourself
Scoop the seeds out using an ice cream scooper
Carve the facial features closest to the centre first and work outward
Seal the cut edges with Vaseline - this will prolong the carving
Make sure you visit us to pick up your pumpkin and take a selfie by our bumper pumpkin trailer!
Pumpkin planters
Why not get creative and use a fresh pumpkin as the basis for an inspiring autumnal planter display or table centre!  It's easy to prepare with rewarding results in no time at all. 
Select your pumpkin, plants and multi-purpose compost from the centre.
Cut a hole in the top of the pumpkin leaving a good size opening and scoop out the flesh and seeds.
Half fill the pumpkin with multi-purpose compost, leaving enough space for your plants.
Add in your choice of seasonal plants.
Fill in the gaps with more compost and water well.
Place on table, window or at doorstep.
Whether you are eating, decorating or carving them, have a safe and happy Halloween!
For more information, visit Country Market - your local Farm Shop & Garden Centre in Kingsley, Nr Bordon, Hampshire.