Rhubarb – nutritious natural food available at our farm shop
Rhubarb is actually a vegetable and it is the rose red stalks that are used in cooking, with the green leaves being discarded as they are unfit for human consumption.
Rhubarb is full of phyto-nutrients such as dietary fibre, and antioxidants such as vitamin A, vitamin K, B-complex vitamins and minerals such as iron, copper, calcium, potassium and phospherous. Research studies suggest that natural food rich in vitamin A helps protect the body against lung and oral cavity cancers. Foods rich in vitamin K may promote bone health and limit neuronal damage associated with diseases such as Alzheimer's.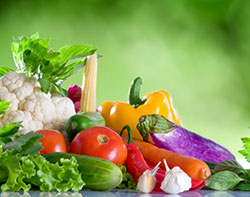 Inspiring ways to use this delicious natural food in your cooking
This natural food is readily available in our farm shop so stock up now and try out some of these tasty recipes.
Rhubarb is especially good when accompanied by ginger or strawberries – here we have two lovely jam recipes to try out:
http://www.bbcgoodfood.com/recipes/1091639/rhubarb-and-ginger-jam
http://www.taste.com.au/recipes/28773/strawberry+rhubarb+and+vanilla+jam
Although tart, if accompanied with a sprinkle of sugar, rhubarb's juicy stalks can be used in the preparation of tarts, puddings, crumbles, muffins and drinks.
Not just good in a classic crumble
Many cooks default to the safety of a traditional rhubarb crumble, but this intriguingly tangy natural food has many more vibrant uses. For example you can also use rhubarb to replace the zesty lemon in a meringue-topped pie or in a cheesecake:
http://www.bbc.co.uk/food/recipes/rhubarb_meringue_pie_96909
http://www.deliaonline.com/recipes/main-ingredient/rhubarb/rhubarb-cheesecake.html
Alternatively you can poach rhubarb and add to soaked Bircher muesli with almonds and rose water for a delicious breakfast bowl.
http://www.houseandgarden.co.uk/recipes/breakfast-brunch/rhubarb-rose-almond-bircher-muesli
Delicious cocktail ideas
Make rhubarb syrup or even infuse vodka with rhubarb for a tangy base for cocktails – here are some of our favourite recipes which would make fantastic summery drinks!
http://www.bbcgoodfood.com/recipes/2955684/rhubarb-and-custard-cocktail
http://www.bbc.co.uk/food/recipes/rhubarbvodka_65975
http://www.jamieoliver.com/recipes/fruit-recipes/rhubarb-bellini
Advice from our farm shop
Hopefully we've provided some tantalising recipes and suggestions for using rhubarb. As with the majority of natural food it's important to store it in the right conditions once you get it home. Place rhubarb in a plastic bag and store in the fridge to keep the stalks fresh for 1-2 weeks after purchase.