Cooking with seasonal natural produce: the healthy and nutritious choice
Whether you grow natural produce in your garden vegetable patch or allotment, or you prefer to buy it fresh from our farmshop, you'll know that August and September are peak months for many fruits and vegetables. Local, seasonal natural produce is usually fresher, tastier and more nutritious than food that has travelled a long distance or been stored for a long time because it has had time to grow and develop all of its nutrients and flavours. Natural produce that is locally-grown also cuts down on carbon emissions caused by transportation, whilst supporting local farmers and suppliers.
There are so many health benefits to cooking and eating fresh seasonal natural produce – here is our guide to those fruits and vegetables which are at their very best – nutritionally and taste-wise – at this time of the year, alongside some of our favourite recipe suggestions: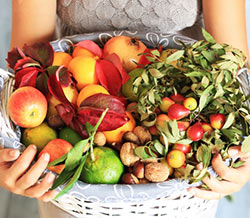 Use natural produce in delicious fruity jams
You can't beat the months of August and September for producing bumper crops of juicy raspberries, strawberries, blackcurrants, cherries, blackberries and plums. Preserve a glut of natural produce in fruity jams and jellies so that you can enjoy their flavours for many months to come:
An apple a day...
Apples are rich in the natural antioxidants vitamin C and beta-carotene as well as soluble fibre. Many popular apple variants, such as Bramley, Discovery and Cox, are at their best in August and September. To enjoy this natural produce at the height of the season, why not try this recipe for caramelised apples with ice cream. If you're looking for a more substantial and savoury dish then this roast shoulder of pork with apple sauce is worth a try.
A season of salads
A variety of salad leaves are in season in August and September, from Cos lettuce to rocket and watercress, and we have some tasty and innovative recipe suggestions for this natural produce. Cos, or Romaine, lettuce is a smooth and firm-textured leaf which makes an ideal salad base and is essential for a Caesar salad. Here are a couple of our favourite recipes using this versatile leaf:
If you prefer the strong peppery taste of wild rocket and watercress, then try them as the perfect accompaniment to gnocchi: Gnocchi with wild rocket.
Delicious recipes using fresh natural produce
Natural produce such as aubergines, courgettes and runner beans are all at their seasonal best in August and September. Aubergines are delicious when drizzled in olive oil and grilled on the barbecue or slowly cooked in a vegetable curry, ratatouille or moussaka: Red lentil and aubergine moussaka.
Courgettes are extremely versatile and very easy to cook with and can be used to make a variety of delicious dishes such as Grilled Garlic Parmesan Zucchini or Stuffed Courgette Flowers:
Runner beans are also in season in August and September. A great source of vitamin C and folic acid, there are many enticing recipes which feature this natural produce, from elaborate side-dishes with big flavours to salads, to curries and pastas:
Warm Runner Bean Salad With Fennel, Apple And Walnut Dressing.
Prime time for natural produce
All-year round we have the freshest and best natural produce in our farmshop so make sure you come in store at Country Market and stock up on all the family-favourites.