Direct from our farm shop: seasonal home grown produce
Eating fresh seasonal produce is good for the whole family – visit our farm shop to pick up your fresh vegetables today!
Naturally tasty produce: get your fresh vegetables from our farm shop
We all know about the health benefits of including plenty of fresh seasonal produce in our diets but the reality of fitting them into family meals can sometimes be tricky. Vegetables are packed with vitamins but how can we be more creative in the kitchen and get the extra goodness from locally grown produce into our diets?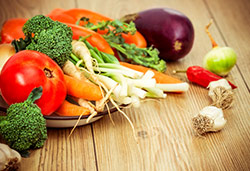 Using fresh produce in juices and soups
Juices and soups are a great way of getting more produce superfoods into our diets. Try out this great 'power soup' http://www.juicemaster.com/recipes/soups/green-veggie-power-soup.The added health benefits are a bonus – celery, alone, reduces acidity, which is beneficial to those who suffer from arthritis, gout and stomach acidity, and it also banishes fluid retention and balances PH levels in the body.
This recipe for warming squash soup is packed full of potassium, vitamins A&C, folic acid and antioxidants: http://www.juicemaster.com/recipes/soups/squash-soup.
For an inventive and nutritious juice, using plenty of seasonal, local produce such as broccoli, watercress, parsley and kale, look no further: http://www.juicemaster.com/recipes/juices/boost-juice.
Baking with seasonal fresh produce – a piece of cake!
Who doesn't like a cup of tea or coffee and a nice piece of cake? 'Everything in moderation' is a healthy approach, so why not try baking a healthier cake for your family by incorporating vegetables that are naturally sweet and add texture whilst keeping the cake moist. At our farm shop we have a variety of tasty fresh produce, such as carrots, beetroot, parsnips and courgettes which make a superb addition to family favourite cake recipes. Carrots, pumpkin and squash complement flavours like ginger or cinnamon, whilst the addition of courgettes makes for moist, light muffins and beetroot is perfect with chocolate cake to add a delicious fudge-like texture. Here are some ideas to inspire you: http://www.deliciousmagazine.co.uk/articles/how-to-make-cakes-from-vegetables.
Fresh produce as an alternative to pasta
Pasta has been ranked as the world's favourite food but, with refined white flour as the main ingredient of regular pasta, it's hardly a healthy choice and poses additional problems for gluten-allergy sufferers. Why not make a nutritious alternative dish for the whole family by substituting flour-based pasta for a recipe made with fresh produce, such as courgettes or aubergines?
Deliciously Ella's blog has a variety of healthy, inspiring recipes which use fresh seasonal produce and yet aren't short on flavour – Ella's Zucchini (Courgette) & Carrot noodles with Avocado, Pea & Kale Pesto and Mediterranean Vegetable Spaghettis are some of our particular favourites: http://deliciouslyella.com/zucchini-carrot-noodles-with-avocado-pea-kale-pesto-vegan/ http://deliciouslyella.com/mediterranean-vegetable-spaghetti/.
Naturally tasty produce from our farm shop
If our produce recipes and suggestions have inspired you, please visit us at our Country Market farm shop in Borden to pick up a selection of great quality fresh vegetables to feed the whole family.