Hampshire Garden Centre : September Jobs in the Garden
As the summer comes to an end and we all return from our holidays there is plenty to be done in the garden. Here are a few tasks from the experts here at Country market, Hampshire: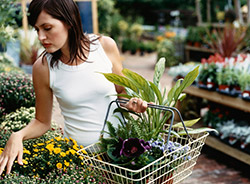 Now is the time to prune summer shrubs and to complete any pruning jobs from August that you haven't had a chance to do in order to leave the garden looking tidy. Not sure how or what to prune? Pop in to our garden centre in Bordon and we can give you all the advice you need.
You can also continue dead heading roses and summer bedding, which will prolong flowering. September is also a good time to plant bare rooted roses. We have a wide range of roses here at Country Market, Hampshire so come and have a look.
As summer bedding begins to die off and look tired, replant your pots with winter flowering pansies to add colour and life. We sell a range of pansies and other autumn bedding in our garden centre in all the colours of the rainbow!
September is also the time to plant winter and spring flowering bulbs such as snowdrops, bluebells, daffodils and crocuses anemones. You can plant forced hyacinths for indoor displays at Christmas, also available in our garden centre.
You can now start to pot sweet peas for earlier flowers next summer.
Get an early start on scarifying lawns and towards the end of September give them an autumn feed. At Country Market, Hampshire we have everything you need for lawn care, just ask!
Harvest fruit such as apples and pears become ripe so make sure you enjoy them in scrumptious crumbles!
Make sure you bring in any house plants you have had outside for the summer – as the nights get colder it is important to ensure these plants are protected from the cold.
Now is the time to get ahead and invest in items that will keep your plants warm such as fleece, mini greenhouses and clear polythene. Buy it now from our garden centre to make sure you have it ready for frosty nights.
If you have an allotment or like to grow vegetables in the garden, then now is the time to plant onions and garlic for early crops next year, all available from our garden centre, at Country Market, Hampshire.
For more information, visit Country Market, garden centre, Hampshire.