Country Market's farm shop celebrates harvest festival with an abundance of fresh fruit and vegetables
All year round customers visit our farm shop to pick up fresh, locally-grown seasonal produce and as we approach the end of September, and traditionally celebrate the harvest festival, it's a bumper time for fruit and vegetables – especially our pumpkins!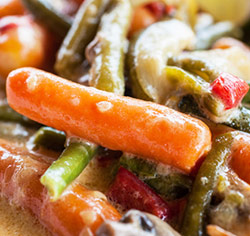 The history of the harvest festival
With an upsurge in healthy living, farm shops which sell fresh, locally-grown produce have become increasingly popular – but, long before the existence of the farm shop, the benefits and value of a productive and successful growing season were already being celebrated. In Britain thanks have been given for successful harvests since pagan times, with the harvest festival traditionally held on the Sunday nearest, or of, the harvest moon (the full moon that occurs closest to the autumn equinox). Historically, harvest festival celebrations included singing hymns, praying and decorating churches with baskets of fruit and flowers and culminated with a huge feast for the farming community.
Children usually learn about the history and significance of the harvest festival at primary school and more recently it has become customary for schools and other groups to mark the harvest festival by donating food, both fresh and tinned, for distribution to elderly or poorer members of the community via local food banks.
Visit our farm shop and try these tasty autumnal recipes
Harvest festivals traditionally involve feasting on those foods that are fresh and natural, having come to maturity and been harvested at the time of the festival and, as the weather cools and the nights draw in, we all crave something hearty and comforting.
For a simple, nutritious and heart-warming soup visit our farm shop and pick up some fresh vegetables or one of our wonderful pumpkins and try this autumn soup or harvest pumpkin soup recipe
Many fruits, such as apples, blackberries, damsons, pears and plums are reaching their peak toward the end of September. We have an array of delicious sweet produce in our farm shop which can be incorporated in numerous classic dishes:
Celebrating the harvest around the world
In the UK, we traditionally celebrate the harvest festival at the end of September and at this time of the year our farm shop is all the more full of lovely fresh produce. Due to climatic variation and differing crops grown around the world, some countries celebrate the harvest festival at slightly different times. For example, in North America and Canada they have their own special Thanksgiving celebrations on the fourth Thursday in November which is a key date in the calendar and a widely celebrated national holiday. Later on in the season, why not try some adding some Thanksgiving favourites to your menu:
Pick up your family's favourites at our farm shop
All year round we have the freshest and best natural produce in our farm shop so make sure you come in store at Country Market and stock up on all the family favourites.