Valentine's Day at our farm shop
Let our farm shop take care of your Valentine
As that special day quickly approaches, many of us will be running around like headless chickens trying to organise presents, flowers, chocolates and gifts for our loved ones this Valentine's Day. Why not pop into our farm shop as we can help take the stress out of planning the perfect meal and even help you pick up some special gifts for your Valentine.
We sell a variety of Cook ready meals, Chapmans Frozen Fish and Nutmeg Fine foods in our farm shop. From traditional hearty meals such as Shepherd's pie to the delicious slow cooked Lasagne al Forno, we are sure to have something to tantalise the taste buds!
If you fancy making something from scratch then why not take a look at the great selection of fresh food within our farm shop? You could even start the day with breakfast in bed, just pop in store to pick up some organic from our farm shop, some spinach and some muffins and hey presto! – You've got yourself a scrummy breakfast and a very happy partner! Visit http://www.bbcgoodfood.com/recipes/category/valentines-day for some great Valentines recipes.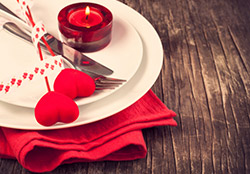 Gift ideas from our farm shop
We have a great selection of gifts within the farm shop. For example, we have a fantastic 'Impressions' photo frame for only £3.99! Why not create a 'story so far' by using 3 or 4 photo frames? Perhaps you have a photo of the two of you on your first date, or even as friends when you were younger. Maybe you have some old holiday pictures; you could even put movie stubs or other sentimental items to really give it that personal touch.
We stock great brands such as Cath Kidston, Emma Bridgewater and Cottage Delight so you are sure to find something for that special someone. And don't forget; feel free to ask a member of staff within the farm shop for their recommendations.
Flowers for your Valentine
Valentine's Day wouldn't be complete without flowers! So make sure you visit our farm shop and garden nursery for a great selection of plants and flowers. We hope you all have a wonderful Valentine's Day and look forward to seeing you all soon. It's not long to go until the brand new store is unveiled but in the meantime it's business as usual at our farm shop and garden nursery!