Steps to successful container planting, from the team at Country Market's garden centre
Pots, hanging baskets and window boxes are versatile and easy ways to brighten up any outdoor space and we have plenty of options at our garden centre.
The experts at our garden centre maintain that, whatever the style or size of your garden, anyone can have a hanging basket or pot of plants – you can even have a pretty window box if you don't have a garden!
Containers can provide a focal point or screening, can divide outside spaces and accent the surrounding landscape.
The secret to successful container growing is choosing the right container, the right compost and the right plants and then remembering to water and feed where appropriate.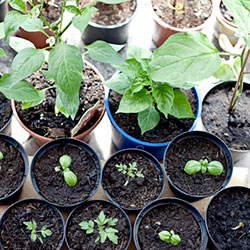 Planting your chosen container with confidence
Soil needs to be well-aerated and drained and our experts recommend using potting soil rather than garden soil which could contain insects or weed seed.
Composts have been developed which are specifically beneficial to hanging baskets and containers, with water-retaining materials and added nutrients; speak to one of the team at our garden centre for advice on the right compost for your conditions.
Pots, hanging baskets and beyond!
Terracotta and stone are the traditional container materials, with hanging baskets generally being constructed from wire but it is possible to upcycle items and create quirky alternatives to regular hanging baskets and containers. Get creative and you can utilise anything from water troughs to beer barrels, ceramic kitchen sinks to metal watering cans – even wellingtons or chimney pots can be repurposed – as long as there is adequate drainage at the bottom of the container, to prevent water logging, then you can be as imaginative as you like.
The fun part: selecting your plants
You can really go to town with different colour themes, and achieve different heights and textures of planting by utilising climbing or trailing variants such as trailing Lobelias and Fuchsias. You might even decide to plant strawberries, cherry tomatoes or herbs, to create a small kitchen garden in a container. You will find an extensive range of plants at Country Market's garden centre.
Caring for your plants
The paradox of container gardening is the need to retain moisture whilst avoiding water-logging. Our garden centre specialists recommend watering once or twice a day during hot summer spells, but suggest doing this early in the morning or in the evening when the sun is not shining directly on the plants.
It is also beneficial to dead-head flowers to promote new growth and your plants will also flourish if fed with a liquid feed to top up the slow-release fertiliser once a week or fortnight – our garden centre has a good range of fertilisers for the purpose.
Hopefully we've provided some useful tips on successful container planting but if you're in need of further advice then pop into our nursery and speak to one of our experts. If you want instant results then you will also be able to buy pre-filled hanging baskets from Country Market from the end of May.